2015 | 2014 | 2013 | 2012 | 2011 | 2010 | 2009
2008 | 2007 | 2006 | 2005 | 2004 | 2003 | 2002

Jan | Feb | Mar | Apr | May | Jun
Jul | Aug | Sep | Oct | Nov | Dec
November 1, 2002 / 6:46 p.m. ET
Houston, we have a collectible: On November 14, the Astronaut Scholarship Foundation is hosting a gala at the Kennedy Space Center Visitor Complex with Tom Hanks, Ron Howard and James Lovell to celebrate the recently released Apollo 13: The IMAX Experience. Although the star-studded evening is sold-out, tickets for a companion viewing with Lovell and Gene Kranz are still available. Of noted interest to space collectors, the actor, director, and astronaut have signed DVDs, now available for pre-order.
November 4, 2002 / 4:13 p.m. ET
The first woman to train as a payload specialist, Dianne Kasnic Prinz died of lymphoma on Oct. 12, at the age of 64. Selected as the back-up PS to John-David Bartoe for STS-51F, she would have flown on a Spacelab mission if the Challenger accident hadn't halted flights in Jan. 1986. Instead, she returned to where she had begun her career in 1967, the Naval Research Lab, where she worked as a research scientist until 2000.
November 4, 2002 / 11:33 p.m. ET
How about 'collect' and 'SPACE'? NASA announced today that the LEGO Company will manage its contest to choose more original names for the agency's twin Mars missions than their current working titles of 'A' and 'B'. The news comes only a few weeks after LEGO unveiled their take on the first man on Mars, followed by our own tour of the rovers at the NASA Jet Propulsion Laboratory. November 7, 2002 / 9:14 p.m. ET
Artwork for Astronauts 101: When STS-115 launches to the station next May, the crew will don patches designed by students in Canada, according to The Ottawa Citizen. Challenged by astronaut alumnus Steven MacLean, York University students answered his call for an insignia with two designs: one for the Canadian astronaut; another for his entire crew. NASA will reveal the patches on Monday.

November 7, 2002 / 10:24 p.m. ET
Maybe we didn't go: If hoaxsters thought NASA was hiding the truth before, now it's official: the space agency has pulled the funding for a book aimed at rebutting the claims we didn't go the Moon. Citing negative publicity, NASA canceled consultant Jim Oberg's efforts to write 30,000 words on the subject. For his part, Oberg says he will pursue the project even without the NASA's blessing.
November 8, 2002 / 8:12 p.m. ET
Artwork for Astronauts 102: Following the news of their students' NASA-selected patch designs, York University has said it will host a live webcast to debut the STS-115 emblems. The live video with Canadian Space Agency astronaut Steve MacLean starts 10:00 a.m. ET Monday.
November 11, 2002 / 12:30 a.m. ET
Shuttle delayed: A leak in an oxygen line has led NASA to scrub its planned launch of Endeavour. The P1 space station truss and more than 5,000 mementos will need to wait at least one week before STS-113 can hope to liftoff.
November 11, 2002 / 11:29 a.m. ET
Artwork for Astronauts 103: As was planned, students took to the stage this morning to debut their designs for Canadian astronaut Steven MacLean's personal insignia and the STS-115 crew patch. An archived webcast of the ceremony is available through York University's website. November 12, 2002 / 2:57 p.m. ET
Kazakh cosmonaut class: ITAR-TASS is reporting that Kazakhstan has begun its own national cosmonaut team. From several hundred applicants, four candidates were chosen: Aydyn Aimbetov, Mukhtar Aymakhanov, Ruslan Mukhamedrakhimov and Yermek Shaydullin. Next year, they will report to Star City where one will be selected for a spaceflight. He will become the third Kazakh to fly after veterans Tokhtar O. Aubakirov and Talgat A. Musabayev.
November 15, 2002 / 6:07 p.m. ET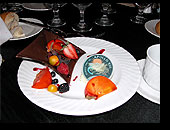 Apollo 13, in chocolate: The Astronaut Scholarship Foundation's Apollo XIII gala was a great success (photo report), with guests sharing dinner (with flight inspired dessert, left) and a film, Apollo 13: The IMAX Experience with actor Tom Hanks, Ron Howard, and James Lovell. If you were not able to be there, you can still order a limited signed DVD.
November 19, 2002 / 1:14 a.m. ET
"NASA steals spacesuit": That was the subject line of Scott Grissom's latest post to sci.space.history: He and his mother are now claiming that NASA is attempting to assert ownership over his father, Virgil "Gus" Grissom's Mercury 4 silver pressure suit on display at the Astronaut Hall of Fame. Scott and his mother Betty are reported to be on their way to Florida to collect their family's artifacts. November 20, 2002 / 9:02 a.m. ET
Grissoms steal spacesuit: NASA says astronaut Virgil "Gus" Grissom borrowed his Mercury spacesuit in 1965 and then never gave it back. After bringing the silver suit to the Astronaut Hall of Fame more than decade ago, the Grissom family now wants it returned. Lawyers for both the family and the space agency plan to meet later today.
November 20, 2002 / 10:30 a.m. ET

Space sale, super-sized: At 14 feet long and 1500 pounds heavy, the Broad Band X-Ray Telescope may be the largest shuttle flown artifact ever offered for private sale. Flown aboard Columbia in 1990, the BBXRT is ripe for display. But don't take our word for it... "The Broad Band X-Ray Telescope obtained data of much fainter and more distant targets than previously capable," said ASTRO-1 crewmember Dr. Samuel Durrance. "It deserves a good home within a museum or private collection where it can be appreciated for its role in furthering our understanding of the universe."
November 21, 2002 / 5:09 p.m. ET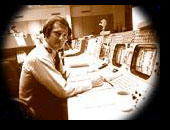 Journey of a Sylifetime: When we last saw former Apollo flight controller Sy Liebergot he said he was just finishing his memoirs. Today, he sent us a scan of the cover (click on the photo, left to enlarge). Sy says: "That photo of me is 1975 at the Skylab EGIL console. You can see our Eagle mascot sitting on top the console." You can expect Sy's biography in time for the Apollo 13 anniversary this April.
November 25, 2002 / 9:47 a.m. ET
Souvenirs launched: As we type, shuttle Endeavour is continuing to pursue the International Space Station for a docking later today. STS-113 is carrying the P1 (P-One) Truss, the Expedition Six crew, and over 5,000 souvenirs to the orbital outpost. November 25, 2002 / 10:01 a.m. ET
Auctions indexed: Our space auction coverage is now compiled under a new heading in Resources: Sales and Auctions. You can now easily locate our highlights and hammer prices for Aurora, Christie's and Superior sales.
November 25, 2002 / 10:21 a.m. ET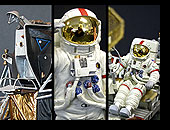 Museum miniaturized: With the first models in Code 3 Collectibles' new National Air and Space Museum line shipping to customers, collectSPACE re-visits their source of inspiration to review them.