advertisements





The Source for Space History and Artifacts

April 24, 2014 / 6:00 a.m. CT (1100 GMT)


'Repairing Hubble': Two of the instruments that played critical roles in discoveries made by the Hubble Space Telescope are now on display in a new exhibit at the Smithsonian's National Air and Space Museum. "Repairing Hubble" marks the 24th anniversary of Hubble's launch into space aboard the shuttle Discovery on April 24, 1990. The exhibit features the orbiting observatory's "contact lenses," COSTAR, and the first camera to demonstrate the unique capabilities of astronomical imaging from space, WFPC2.

April 23, 2014 / 9:45 a.m. CT (1445 GMT)


Apollo 12 astronaut auction: A selection of lunar mementos from the personal collection of Apollo 12 moonwalker Alan Bean form the centerpiece of Heritage Auctions next Space Signature auction. The May 14 sale features nearly 20 lots belonging to Bean, many never having been offered at public auction before, including a trio of artifacts carried out onto the Ocean of Storms. In addition to a pair of scissors and a pen, the auction offers a cloth strap from the life support backpack Bean wore on his moonwalks.

April 21, 2014 / 1:30 p.m. CT (1830 GMT)


Cyber-space memorabilia: As an artifact of 1998 computing power, the Toshiba Satellite Pro laptop sold by RR Auction on April 16 is a world away from the more than $60,000 it commanded. But as the machine Bill Clinton used to send the first email by a sitting U.S. president, and as that email was sent to John Glenn on the space shuttle Discovery, the computer has the crossover appeal of being presidential, cyberspace and space memorabilia.



advertisement


Winco International presents... an official NASA limited edition set

April 18, 2014 / 3:15 p.m. CT (2015 GMT)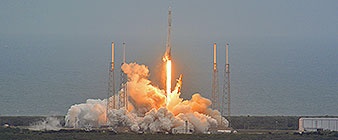 Dragon departs for space station: SpaceX on Friday (April 18) launched its third NASA-contracted International Space Station cargo run from Cape Canaveral Air Force Station's LC-40 in Florida. Packed with more than two tons of science experiments and supplies, SpaceX's fourth ISS-bound Dragon capsule lifted off on a Falcon 9 booster on the month-long Commercial Resupply Services-3 (CRS-3 or SpX-3) mission after more than a month of delays.

April 17, 2014 / 8:55 p.m. CT (0155 GMT April 18)


John C. Houbolt (1919-2014): On Nov. 15, 1961, NASA Langley engineer John Houbolt fired off a letter to the agency's number two official that began, "Somewhat as a voice in the wilderness, I would like to pass on a few thoughts." Houbolt, who died Tuesday (April 15) at the age of 95, then asked, "Do we want to go to the moon or not?" Houbolt argued for "lunar orbit rendezvous," a plan that ran counter to NASA's prevailing thoughts on how to land men on the moon. But Houbolt's persistence in championing the alternate approach resulted in its adoption and in the years since, has been credited as critical to Apollo's success.

April 14, 2014 / 8:50 p.m. CT (0150 GMT April 15)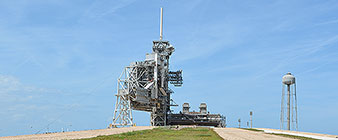 Launch pad lease: NASA on Monday (April 14) signed a 20-year lease with SpaceX for the use of Kennedy Space Center's historic Launch Complex 39 in Florida. "This historic site, from which numerous Apollo and space shuttle missions began ... is beginning a new mission as a commercial launch site," said NASA Administrator Charles Bolden, who as an astronaut lifted off from the same pad. SpaceX intends to use Complex 39A to launch its Falcon Heavy and Falcon 9 rockets, including crewed missions.

April 9, 2014 / 3:25 p.m. CT (2025 GMT)


Apollo 13 astronaut auction: 44 years ago this Friday (April 11), astronaut Jack Swigert found himself launching on Apollo 13, having come off the backup crew three days earlier. He was the first to alert Mission Control that 'we've had a problem' when an explosion occurred midway to the moon. Now, the mission patches that he wore during that ill-fated mission, the mechanical pencil he carried, and other memorabilia from his estate is heading for an auction to be held in May by Los Angeles-based Nate D. Sanders.



special feature


Updates | Photo Galleries | Timeline | Shuttle Tracker | Discussions

April 7, 2014 / 6:25 p.m. CT (2325 GMT)


Bonn voyage: Liberty Bell 7, astronaut Gus Grissom's Mercury capsule that spent nearly 40 years on the ocean floor, will return to the sea this summer. The spacecraft will depart the Kansas Cosmosphere and Space Center for a trip by ocean freighter to Europe, where it is to go on display for four months at the Art and Exhibition Hall of the Federal Republic of Germany in Bonn. The capsule will be a part of the exhibit "Outer Space: The Space Between Art and Science," which will connect space artifacts, scientific displays and science fiction to historical and modern works of art. Liberty Bell 7 will leave for Germany in August to go on display from October 2014 through February 2015.

April 3, 2014 / 4:30 p.m. CT (2130 GMT)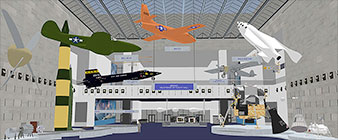 'Milestone' makeover: The National Air and Space Museum's main hall, the "Milestones of Flight," will undergo a major renovation to be ready for the museum's 40th anniversary in 2016. The gallery's modern makeover will include digital kiosks, an integrated mobile experience and the addition of an Apollo lunar module (as well as the move of Apollo 11's "Columbia" to a different hall). The expanded "Milestones" will be named for Boeing, which donated $30 million to the Smithsonian in support of the renovation.

April 3, 2014 / 12:10 a.m. CT (0510 GMT)


Loss of signal: NASA on Wednesday (April 2) suspended most of its joint activities with Russia given the country's "ongoing violation of Ukraine's sovereignty," the space agency said in a statement. NASA and Roscosmos will however continue to work together to maintain safe and continuous operation of the International Space Station.

April 2, 2014 / 12:00 a.m. CT (0500 GMT)


North Korea's NADA: Marking a year since its founding, North Korea revealed the name and official logo for its space agency, and it was "nothing" if not interesting. Emblazoned across the blue globe-shaped emblem is the acronym for the DPRK's National Aerospace Development Administration, or NADA. According to announcement, the logo is intended to symbolize the peaceful development of space and the DPRK's "will to launch satellites" into orbit.

March 31, 2014 / 1:45 p.m. CT (1845 GMT)


NASA 905's final 'flight' plan: The modified Boeing 747 jumbo jet that for three decades was used to ferry space shuttles across the country will depart on its last journey at the end of April, Space Center Houston officials announced Monday (March 31). The partially disassembled Shuttle Carrier Aircraft will take off down the streets, rather than up in the air, as it is moved from Ellington Field to the site of its future exhibition. The transport, which will cover 8 miles (13 kilometers) will take two nights to complete.

March 31, 2014 / 1:00 a.m. CT (0600 GMT)


R/V Neil Armstrong: The U.S. Navy named its newest research ship for the first man to walk on the moon at a christening ceremony at the Port of Anacortes, Wash. on Saturday (March 29). The Woods Hole Oceanographic Institution will operate the R/V Neil Armstrong (AGOR 27) to continue science studies in the Atlantic, western Pacific and Indian ocean regions. The first vessel in its class, "the R/V Neil Armstrong will provide a continuum of exploration for the next 50 years," said Carol Armstrong, the widow of the Apollo 11 astronaut and sponsor of the ship.

March 28, 2014 / 11:25 p.m. CT (0425 GMT March 29)


T-365 days to a year in space: As of Friday (March 28), NASA astronaut Scott Kelly and Russian cosmonaut Mikhail Kornienko were one year from embarking to the International Space Station to begin the orbiting outpost's first yearlong mission. Kelly is counting down the days by posting daily to Twitter as he prepares to leave the planet. The 12-month mission is aimed at better understanding the challenges associated with sending astronauts beyond the Earth to the vicinity of the moon, an asteroid and to Mars.

March 27, 2014 / 1:50 a.m. CT (0650 GMT)


45 past the moon: Omega has revealed the Speedmaster Apollo 11 45th Anniversary LE wristwatch, a commemorative version of the timepiece worn during the first moon landing in 1969. The watch, which is limited to 1,969 pieces, includes features from the original chronograph but with a laser-etched black dial and 18-karat gold bezel that is unique to this edition. Omega says the watch celebrates the link between the lunar landing and iconic wristwatch.

March 25, 2014 / 9:30 p.m. CT (0230 GMT March 26) - UPDATED


Station docking delayed: Soyuz TMA-12M crew members Alexander Skvortsov, Steve Swanson and Oleg Artemyev launched from the Baikonur Cosmodrome Tuesday (March 25) for what was planned as an accelerated, six-hour flight to the International Space Station. A missed engine firing however, resulted in the crew having to revert to a more historically-routine, two-day rendezvous timeline. The Soyuz is now due to dock at the outpost Thursday.



[ browse earlier updates ]




© 1999-2014 collectSPACE.com contact@collectspace.com