ESA offers flown euros for education

October 8, 2003 — Beginning October 20, the European Space Agency will be auctioning three sets of euro banknotes and 15 national sets of euro coins, all of which were flown onboard the International Space Station during the Belgian Soyuz mission "Odissea" in October 2002.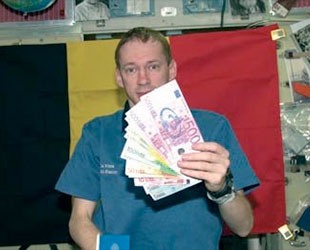 Signed prior to flight by European Central Bank President Willem F. Duisenberg, the banknotes were marked by Frank De Winne onboard the station with the official ISS and Odissea mission stamps. After their return to Earth, the banknotes and coins were further certified as flown by De Winne.

"I am honored to be part of this initiative, a contribution helping students to develop their knowledge of space activities and to build the European space community of the future," said De Winne.

The Euro From Space initiative is part of a campaign to raise money for ESA's ISS Education Fund, established to encourage students from its 15 member states to study, understand and support science and technology by tapping into the excitement of space exploration.

The Fund supports the the development, production and distribution of teaching materials in all 11 ESA languages for primary and secondary school students.

"I hope these coins and banknotes will subsequently raise a substantial sum, to be used for educational purposes, since education is the key to our future," said Duisenberg.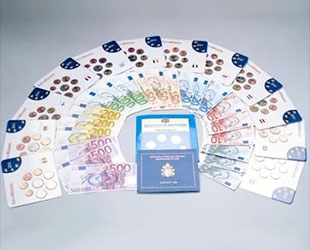 Donations of no less than 5,000 euro will be accepted beginning October 20, through a dedicated fax line. All pledges received by ESA must be honored, regardless if it results in a "winning" high bid.

On October 31, the top 18 donors will each receive from ESA and the European Central Bank one of the euro sets taken to the ISS, in the following order:

The three highest bidders will receive a set of banknotes (each containing 7 banknotes: 5, 10, 20, 50, 100, 200 and 500 euros).
The next 15 will receive a set of coins (each containing 8 coins: 1, 2, 5, 10, 20 and 50 cents and 1 and 2 euros).
The coins will be distributed in this predetermined order: Vatican, Monaco, San Marino, Ireland, Finland, Portugal, Belgium, Luxembourg, the Netherlands, Austria, Greece, Spain, Germany, Italy, France.
"The first euro sets to have travelled in space are unique symbols of the importance for Europe of investing in the education of its youth," said Jörg Feustel-Büechl, Director of the ESA Human Spaceflight Directorate.

Visit the European Space Agency website for the official rules or to make a donation to the ISS Education Fund.
back to News



© 1999-2013 collectSPACE.com All rights reserved.
Questions? E-mail contact@collectspace.com